We believe that the sustainable future is created from our actions in the present.
#Come be Neo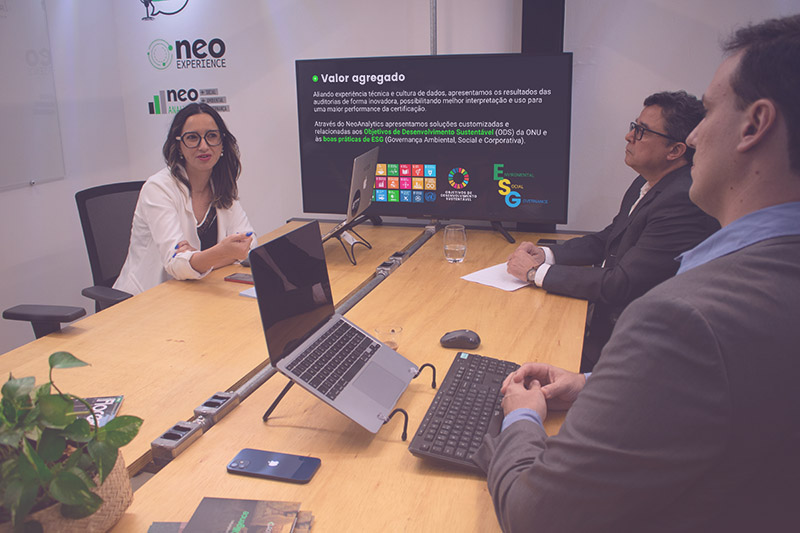 We are an internationally accredited certifier for FSC® certification (the only Brazilian certifier with a global scope) and for PEFC certification in forest management and chain of custody. We are qualified to undertake independent forest audits (IFA) in public forest concession contracts and certification of animal welfare and LIFE Biodiversity.
We carry out third-party verifications in due diligence processes, emissions inventory (Carbon Footprint Management Program) and ESG performance evaluation (ESG Score), to add value to businesses with credibility.
Uncomplicating the certification journey, processing information and data and generating accessible analyzes connected to the trends of our time are concerns that make Neocert a company with a data-oriented culture and passionate about creating more sustainable "futures".
Press play!
To be a Neo customer is to conquer
INFORMATION AND DATA IN THE PALM OF YOUR HAND (NEOANALYTICS)
Access NeoAnalytics with exclusive reports on your certification performance and also relate to SDG goals and ESG performance.

Have assertive, agile and uncomplicated support in the customer journey throughout the certification cycle.

Highly qualified team guarantee.
Use of efficient sampling and technological resources in the process.
HIGH PERFORMANCE TEAMS AND PROFESSIONAL NETWORKING ACTIVATION
Have access to relevant and current content on topics related to certification, sustainability, in addition to activating networking and connections through NeoClub.
Marcos Planello
Operations director
Guilherme Lopes
Executive Director
Lineu Siqueira Jr
Administrative Council
Maureen Voigtlaender
Quality Coordinator
Clarissa Magalhães
Certifications Coordinator
Junia Karst
Certifications Coordinator
Gabriela Abe
Commercial Analyst
Bárbara Street
Operations Coordinator
Renata Migray
Certifications Coordinator
Diogo Lorenzetti
Commercial Coordinator
Rafael Rodrigues
Commercial Coordinator
Júlia Passoni
Quality Analyst
Maria Augusta Godoy
Certification Coordinator
Janaina Pereira
Financial and Human Resources Analyst
Victor Melo
Certification Coordinator
Gustavo Tangi
Financial Assistant
Our offices are located in environments with a lot of innovation and synergy for startups, large companies and institutions in Piracicaba (São Paulo), a teaching and technology center for Agribusiness and the Forestry sector.
Come visit us and get to know this important ecosystem of entrepreneurship and innovation.
AgTech Garage is one of the main agribusiness innovation hubs worldwide. In partnership with leading companies in their segments, it is the protagonist of a new dynamic of innovation in Agro: open, networked, collaborative and agile.