Score ESG
Improve your environmental, social and governance performance, and credibly declare your performance and commitment based on metrics
What is the Neocert ESG Score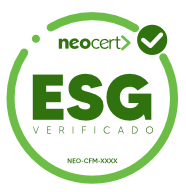 ESG performance assessment service for agribusiness, industry and companies from other sectors, which allows them to improve their environmental, social and governance performance and declare their commitment with credibility through concrete data and seals.
Based on material themes relevant to the production sector, it presents the results of the process in dashboards that make it easy for the entrepreneur to visualize and understand their performance data, as well as in tables describing points for improvement and the respective ways of improving them.
What material topics are assessed



 Relations with stakeholders


Management and governance

Rural producers and large-scale farms


Agro-industries with a large supply chain
ESG is more than a matter of image. The rational use of natural resources and effective commitment to the principles of social responsibility and governance is essential for accessing markets and differentiated financial resources.
The use of data allows businesses to improve and declare in a reliable, secure and transparent way the socio-environmental performance of the company, products and processes in relation to the adoption of good social, environmental and governance practices.
Other benefits of the Neocert ESG Score
Results presented graphically and dynamically, making it easier to understand the information
 Identification of ESG performance improvement points and how to improve them
 Provides valuable information for the strategic decision-making process
Use as a marketing and corporate promotion tool
 Use of verified data in sustainability reports
 Potential access to financial advantages (green bonds, differentiated rural credit, investments with better conditions)
Improve and declare your company's socio-environmental performance in relation to the adoption of good ESG routines in a reliable, secure and transparent manner. Contact one of our experts and find out what ESG is in practice!