Due Diligence and Verification
Prove the legality of your products and meet international requirements
The Neocert legality standard was adapted from the Preferred by Nature Sustainability Standard (formerly Nepcon – Sustainability Framework) and combines Brazilian legal requirements, product traceability and analysis of land use at the origin of raw materials.
This tool allows Brazilian producers and international buyers to ensure compliance with global requirements, such as the EUTR and Lacey Act and the imminent EUDR – European Union Deforestation Regulation – which will come into force in 2024 with the aim of preventing products that contribute to deforestation or forest degradation from entering the European Union.
The Neocert Legality Standard has been carefully designed for compliance verification of agricultural and forestry operations in the field, as well as for processors, traders and investors who wish to carry out due diligence on the value chain.
Organizations that are verified by Neocert will be eligible to use our "Neocert EUDR Verified" and "Neocert Legal Verified" seal and make product-related and business-to-business declarations.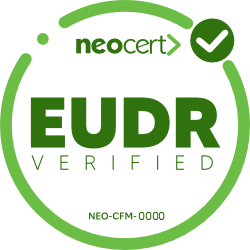 The Neocert Legality Standard distinguishes between indicators applicable to land use operations (e.g. farms and forests) and those relevant to processing and manufacturing entities. As such, it can be used by any of them to implement responsibility commitments in their operations.
Why adhere to the Neocert Legality Standard?
As a producer, you can have a complete diagnosis of how your business meets the relevant requirements for the most demanding markets. What's more, by complying with the standard, you can differentiate your products on the market.
As a buyer, you can assess the performance of your supply chain and thereby mitigate the risks of becoming involved in illegal and deforestation issues.
Rely on the expertise of the Neocert team, a genuine Brazilian certifier! Rely on the expertise of the Neocert team, a genuine Brazilian certifying entity!